Build Hope: April 30 Dinner and Auction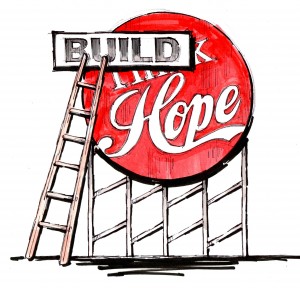 Will you join us for an evening of entertainment that just happens to be purpose-filled?
Mark your calendar for Build Hope, our annual fellowship and fundraising event: 5 p.m., Saturday, April 30th.
The evening is a celebration of the gifts and talents of the community of Hope Church, brought together to benefit many ways in which our building is a gift to our broader community. The evening includes a chance to bid on items in an auction to benefit the Living Hope Capital Campaign Fund in improving the Commons, as well as a full dinner and entertainment.
Tickets are available in the Gathering Area and church office for $12 per person.
Auction donations are also welcome. Think about your possibilities, which could include handcrafted or home-baked items, certificates for food or services (babysitting, landscaping, or whatever your talents are), artwork, holiday opportunities, etc. Anything goes!
To donate, pick up a form from the Gathering Area or church office, and deliver your item (or your form, if the item is perishable) between April 17 and April 24.
Do join us for this celebration of talents, fellowship, fun, and the ways in which our building can be a gift to our community.
~Community Ministry