Nursery
Childcare for infants and toddlers is provided in the nursery from 9:40 a.m., when the Adult Education begins, through the end of the 11:00 a.m. worship service. Caring adults and youth provide and environment of loving care.
Church School Classes
From 9:40 to 10:40 a.m., September through May, children are invited to Room 204 to connect with each other, their leaders, Bible stories, and their families. Preschoolers through fifth-graders begin each Sunday morning together for an exciting presentation of a Bible story and some singing and worship time. Then the children divide into smaller groups by age to continue to learn about the story with age-appropriate activities and ways to connect the story to their lives.
Welcoming Children to Worship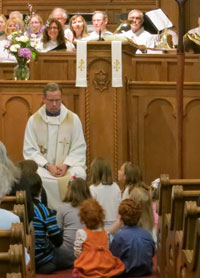 Children are very much part of our worshiping community. Their presence is based on Biblical tradition and the Reformed belief that children belong to this covenant community. Worshiping together helps children
Know they belong to Christ and are welcome in God's church
Hear stories from the Bible read and interpreted, and begin to experience worship as a place where God may speak to them
Experience the drama of baptism and the Lord's Supperthe visible means of God's grace.
Experience the beauty of music and art as creative expressions of praise to God
Learn the Lord's Prayer, the Doxology, and other frequently used responses
Build memories of shared experience in Christian community
Discover they are valued by God and all God's people.
During the 11 a.m. Sanctuary Worship, following "A Word with the Children" from the minister, children three years of age through fifth grade are given the option to leave the sanctuary, escorted by Children in Worship leaders, and continue their worship in age-group worship centers. The children continue their worship by listening to God's word, praising God in song, hearing the stories of God and responding in their own ways, and praying together in community. Fourth- and fifth-graders (and others as families choose) remain in the sanctuary when Communion is served.
The bulletin lists each week's stories to help families discuss children's experience in Children in Worship.
Children's Choirs
Children's Choirs take place seasonally. Watch announcements in the newsletter, bulletins, and on the calendar for rehearsal times.
FTT (Family Time Together)
This group emerged from the former PACT (Parents and Children Together). This group is open to all Hope Church families with children of any age. The group will meet periodically throughout the year for various family-oriented times together. Events may include Game Night/Game Day, Pancake dinner and celebration (Shrove Tuesday), and other opportunities for families to spend time together and with one another. Look for specific dates, events, and times in newsletters, bulletins and on the Hope Church website. Call or email Jocelyn VanHeest with any questions or suggestions.