Connections: 2014-2015 Christian Education Brochure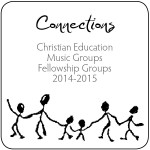 Take a look at the graphic for the Connections theme: several figures holding hands. But what if that's just part of the picture, with the line actually extending far beyond in both directions? Imagine that, and then imagine this too: these figures linked together not just in a place, but also connected across time, stretching from past to present to future. Perhaps that's a bit much to get out of a simple graphic! But it's not too much to find in the theme of Connections.
The Apostle Paul writes that the Good News he shares is simply the message he has received and knows the importance of passing on – now think of that graphic! – all the way to a community called Hope Church. Person by person, generation by generation, that is the picture: people connected to Jesus Christ by those who have handed on the Good News and a community called to make new connections as we share God's grace with others. So look for yourself in this simple picture – you're there! – and know that God is connecting others into the picture too.