Don't Just Think Hope: April 30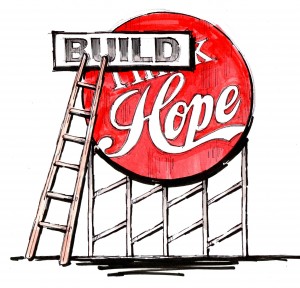 Let's Build Hope! Recognizing the many ways in which our facility supports our community, the Community Ministry has designated the Living Hope Capital Campaign Fund as the beneficiary of this year's Think Hope silent auction event. This year's Build Hope will help to fund improvements to the Commons, which is used by the Holland Audubon, Camera Club, the Ladies' Literary Club, Kids Hope, and more–in addition to Hope Church groups!
The date is set: Reserve April 30 to join us to Build Hope. We're putting dinner back on the table, along with an evening's entertainment. You can start now to craft or collect your donations to the silent auction! To inspire you, past-year items that reflect the creativity and talents of our members have been knitted scarves, hand-sewn grocery bags, original artwork, cakes and pies, ethnic dinners, and babysitting and carpentry services.
Watch for more communications about ticket sales and logistics for delivering your contribution! And plan to join us for a celebration of our members, their gifts, and the ways in which our buildings can be a gift to our community.
~Community Ministry