Ending Hunger One Step At a Time!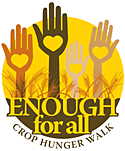 Please join in walking to raise funds for Church World Service food aid.
Saturday, April 23
Holland Christian HS
Register 8:00 – 9:00 AM
or
Sunday, April 24
Beechwood Reformed
Register 1:30 – 2:30 PM
WALKERS: You can pick up your sponsor envelopes at the CROP Walk display in the gathering area on Sunday April 3, 10 or 17.
You can also register to walk or make your donation online at: www.hollandhunger.org.
Remember to bring food items along to the walk to help replenish our local pantries for the summer.
If you have any questions, see the CROP Walk display or contact Judith Boogaart.
~Judith Boogaart, CROP Walk Recruiter