Kids Hope, Connecting with Community for 11 Years
Anne Duinkerken & Barbara Joldersma, Hope Church Kids Hope Co-Directors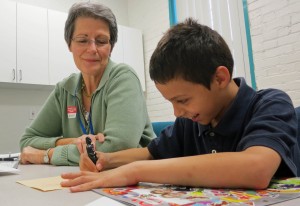 The Hope Church Kids Hope Program is now in its 11th year working to meet the needs of grade school children who are deemed to be at-risk. Over the years, the program has gone through many different funding changes.
Currently, the staff salaries paid to Co-Directors, Anne Duinkerken and Barbara Joldersma, are paid from Benevolence. This was decided a number of years ago as a reflection of the direct service to our community. This year, the program budget was shifted from an off-budget fund to the Benevolence budget as well.
Additionally, the program continues to fund summer camp attendance through a scholarship fund. Thanks to many generous donors, Camp Geneva is able to provide large scholarships to Kids Hope campers who are entering grades 4-6 in the fall. This has been a very meaningful program for our Vanderbilt students and their families. Many students express their gratitude for the days they spend at camp, learning, growing, and sharing their faith.
The Kids Hope scholarship fund is always in need of donations. If you would like to make a donation to the Hope Church Kids Hope Program, please call the church office at (616) 392-7947. Your donation will allow the program to continue to connect Hope Church with our community in a direct and important way!