Kids Hope: February 2018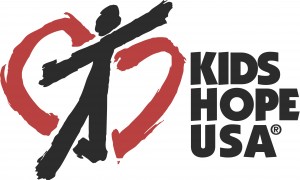 Have you noticed that the Kids Hope symbol is a heart wrapped around a child? How appropriate for this month of February as soon heart shaped valentines will be exchanged along with heart shaped candies, stores will reflect the theme of love with all their red and white decorations and florists will keep busy filling their vases with red roses and blowing up heart shaped balloons. Thinking of all this alongside the Kids Hope symbol brought together some thoughts on why the heart symbol is so appropriate for Kids Hope. Here are some of my personal thoughts….
First of all the Kids Hope heart is an open heart. Let me explain. A few years back I actually retired. I had worked for 35 years in a variety of child related careers and was ready to have more time to be a Grandma and to travel. For 5 of the next years I worked part time but even that was too much after awhile. So just when I thought I was through with any work commitments, the job as Director for Kids Hope at Hope Church came along and my heart was opened to the possibility. God knew I had certain gifts that needed to be shared and he knew just how to tug at my heart. It has opened my heart to a whole new world of mentoring and caring for children in a unique way and I can say with an honest heart that I am glad to be back working!
Not all hearts are open and even some are broken. Take a look at the Kids Hope symbol and you will see how that figure of a child is trying to rise above a broken heart. The kids we serve in Kids Hope often come to us with broken hearts. Currently one little boy's father has Lou Gherigs Disease and is in a wheelchair and cannot communicate. This little boy needs his mentor to be there for him when he wants to talk about his Dad. Another girl is struggling in school and is not getting helped at home. Her broken family consists of a father in jail and a mother working 2 jobs. She relies on her mentor to listen to her stories about her troubled life. Our mentors are there for children like these to help them rise above the brokenness to become the best they can be.
Speaking of our mentors, I believe they have the most wonderful wrapped around hearts. You can see this visibly when they arrive for their Kids Hope meeting and their student comes to them with open arms and they hug. So glad is the child to see their mentor again! Our mentors wrap their arms around their child in many ways including working with them through their homework, attentively listening to their stories and inviting them to play a game or do an activity where they both are involved and enjoying some heart felt fun. The hearts of our prayer partners also adds to the mentor/mentee relationship as they wrap the mentor and child in prayer and make praying an important part of the Kids Hope experience.
So…."love is in the air" as they say and love is at Vanderbilt School everyday of the week as our mentors make their visits, as students greet their mentors and as I continue my job to make sure our hearts are cared for, supported and doing our best to show the love of God to others. Happy Valentines Day!