Kids Hope: June/July 2018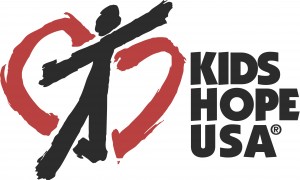 Whoa! We made it! Another school year for Kids Hope at Vanderbilt Academy has come to a halt. But in reality there will still be some connections taking place with mentors planning to see their child over the summer and 3 of our students are attending Camp Geneva. I know I will remain busy with year end evaluations and reviewing my first year as Director to see what went well and what could use improvement. August will be here before you know it and it is then that I will start recruiting for new members. Consider this your warning as I am going to contact as many of you that I can so that I can add you to our already stellar group of mentors.
Speaking of mentors, I have been blessed with a great group this year. They were loyal, creative, caring, fun and had an amazing influence on the kids they mentored. Many went beyond what was expected of them as their relationships deepened which sometimes included activities outside of school like attending their students' ball games. I can't imagine a better group of mentors to work beside to make a difference in the lives of some of our neediest children. If you see them around please thank them for their service to Kids Hope: LINDA COOK, DAVE BOELKINS, BARB BLAUW, BARB KNOOPS, RHONDA EDGINGTON, SANDY MULDER, CONNIE VANDERVELDE, TIM PENNINGS, BRAD BRIGHT, STEPHANIE BEYER, JOHN BEYER, STEVE BERRY, ANDREW BREDOW, and BOB JORDAN.
These mentors were supported through prayer by their prayer partners: JAN FIKE, STEPHANIE KROM, MARY BUYS, JUDY MASTENBROOK, KARI MILLER FENWOOD, JOSH BOCHNIAK, DORTHY SHERBURNE, JILL RUSSELL, DAVE VAN DOORNE, and JANE SCHUYLER.
And since no one's schedule is completely without conflicts our mentors depend on our subs to be there when they cannot: SHARON ARENDSHORST, CAROLE HINTZ, JOSH BOCHNIAK, JANE SCHUYLER and BARB JOLDERSMA.
And finally I want to thank Pastor Gordon for his support and Ann Anderson for faithfully praying for me when I was a mentor and now through my first year of directing the program.
Praise be to the Father, Son and Holy Spirit and may God continue to bless the Kids Hope program! Amen.