Kids Hope: March 2018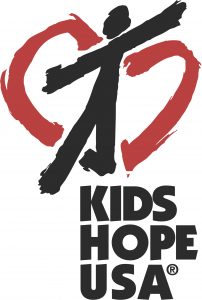 I have been thinking about why someone would volunteer to be a Kids Hope Mentor. I remember getting an email once from a mentor who stated that he could think of no other 50 minutes of time spent that had the potential to make such a difference. That is so true of Kids Hope. In that once a week, 50 minute time period our volunteers spend with their student, they are creating a relationship that not only lasts throughout their elementary school years but now with the Kids Hope "Next" program into their middle school years as well. Our Kids Hope mentors learn that Kids Hope is not a tutoring program like some think it is but rather puts its emphasis on relationship building. The bondings run deep and sometime go beyond the school walls. Let me explain.
I know that one of our Kids Hope mentors has had their student over to their house to play games. Another has taken their student miniature golfing, another out for ice cream and others have enjoyed other outings together. None of this is required beyond the 50 minutes spent at school but are an example of how close their relationships have become.
One example recently really shows how a mentor has gone over and above what they initially signed up for. In this situation the young man that this mentor was mentoring changed schools and was no longer going to Vanderbilt. One of the things that he asked about was if his mentor could come to his new school and mentor him. While sometime this is done it is more frequent that the student would be assigned a new mentor who is affiliated with the church that mentors at that specific school. But not in this case. His mentor wanted to continue mentoring him and got in contact with his mom to see if she was in agreement with this. She was thrilled to think that he would continue mentoring at the new school even though it was farther away on the north side of town. To get a feel for how strong their relationship is let me quote the mentor in his email to the Kids Hope Director who oversees the program at the school his student moved to: "I have been his Kid's Hope mentor for the past three years and am glad that it can continue in his new school at Lakeshore Elementary. On the very first day that I met him at the beginning of the 1st grade, his first two questions for me were: "Am I your only Kids Hope child?" and "Will you be here next year too?". Last year when he found out that Kid's Hope has a program that allows for tutors to continue on past 5th grade, he immediately asked I we could continue. It all points to the need in his life – and undoubtedly the lives of many others like him – that Kids Hope fills. I'm glad to be able – in a small way – to provide some added adult continuity in his life."
I am so excited for both of them that their relationship is continuing. it shows how deep the role of mentor and mentee can become. So when you or I ask why someone would volunteer for Kids Hope, just think of what a difference 50 minutes a week can make in the life of a needy child. The bonds are strong enough that they reach beyond the school walls,, that they include "going the extra mile" to make it work and that not only is the child's life made better by the involvement of a caring adult but that your life too will be changed for the better by the giving of your time. Thinking of volunteering? Come this summer I hope to recruit YOU!