Spring Unity Build for the Glidewell Family
Helping address the affordable housing shortage and building strength, stability, and self-reliance for families, Hope Church has long been a partner with Lakeshore Habitat for Humanity. Since 1990, more than 200 families in Ottawa and Allegan counties have been served.
This spring Hope Church is supporting the Unity Build for Kala and Taavi Glidewell. Their home site will be at 155 Bluefield, near West Ottawa Middle School.
What is a Unity Build?
It's a collaborative effort, a partnership in ministry, with local churches to help provide funds, gifts-in-kind, and volunteers to build a home. It's an opportunity to do missions in our own back yard and to impact a family's life for generations to come. Hope Church Community Ministry has allocated $2,500 to the Unity Build and is now seeking your involvement.
How can I get involved?
Volunteer! If you like to swing a hammer, roll on paint, install tile, stage materials, or bring a snack out to a crew, express your interest on Sunday, March 25, during Pizza Sunday. Travis Steinhoff, Lakeshore Habitat volunteer coordinator, will be here to answer questions. He can also be reached at volunteer@lakeshorehabitat.org. Or, contact me, Anne Saliers, at 616.848.1230 or asaliers@hollandbpw.com. Shifts are AM or PM, April – September. You can sign up individually, or as a group. (Minimum age is 16 years old. Those 16-18 must be with a guardian.)
Gifts in kind. Contractor expertise, building materials, food for the volunteers, etc.
Financial support. Join the Hope Church table for the annual Lakeshore Habitat for Humanity From Hope to Home fundraising luncheon at noon on Tuesday, May 1, at the Doubletree. Lunch is delicious and free and the program inspiring. Donations are encouraged. 100 percent of donations go toward building houses. Please contact me to save your spot.
Prayers, for the safety of the crews, volunteers, and families in the program.
Participate in ground-breaking and dedication events.
Donate goods, volunteer, and shop at ReStore, 12727 Riley. The public is welcome!
Refer a family for a home.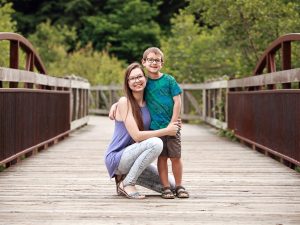 Meet the Glidewell Family
Kala Glidewell is a busy and active mother, and along with her full time job at West Michigan Office Interiors, she likes hiking, playing games, and reading with her 6-year old son, Taavi. A Finnish name meaning beloved, Taavi loves soccer, Pokemon, video games, and reading. His favorite color is metallic gold and he is already talking about painting his bedroom that color! Kala's goals as a Habitat homeowner are to become financially stable and to save for the future. She said, "Owning a Habitat home will provide happiness and stability, enabling me to raise my son in a life-long home. We will have a sense of pride about what we can accomplish."
Habitat homeowners must have lived and worked in the area at least a year, been turned down for a conventional mortgage, have put in 250 "sweat equity" hours, and completed personal budgeting coursework. The mortgage they pay is at 0% interest.
~Community Ministry