Talons Out Honor Flight: Kurt and Clarence Hopkins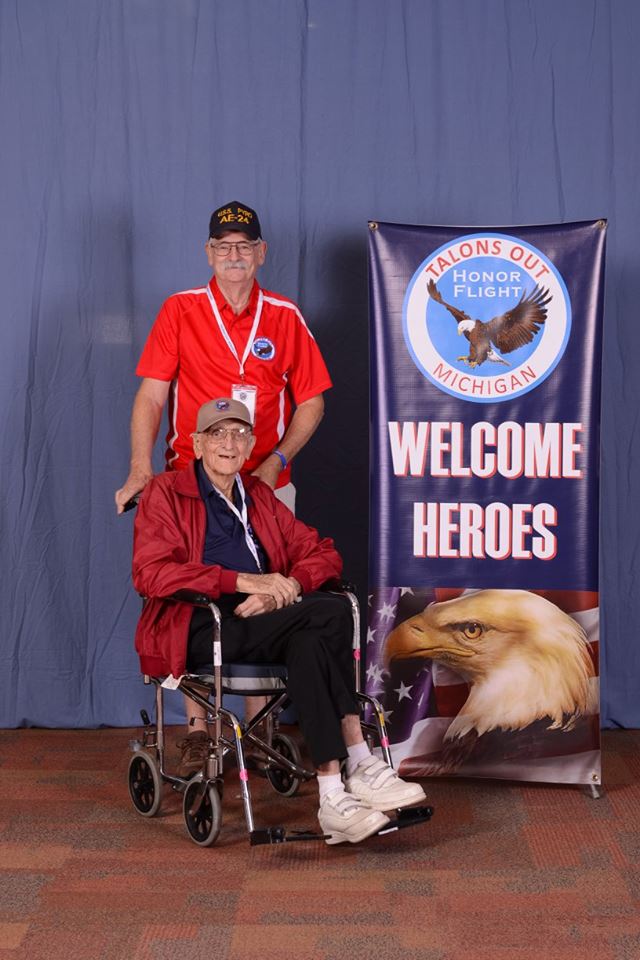 On September 26th I had the privilege of escorting my father, Clarence Hopkins, on a Honor Flight to Washington D.C. Talons Out, an organization based out of Kalamazoo, flies WWII veterans to see the World War II memorial at no cost to the veteran. Our flight consisted of 84 men and women veterans plus their guardians and support staff.
After arriving in D.C., we went to Arlington Cemetery to see the changing of the guard and the laying of a wreath at the Tomb of the Unknown Soldier. It was a moving experience. Next was the WWII memorial where a group photo was taken. The outpouring of "thanks for your service" was unbelievable. We then visited the Korean and Vietnam memorials. At the Vietnam Memorial I found Spencer Freestone's name. He was a classmate at Holland High and a good friend. He will not be forgotten.
We then traveled to the Woman in Military, Iwo Jima and Air Force Memorials before boarding our flight back to Kalamazoo for a welcome home party. A long day but the experience was well worth it. To see these veterans who never knew each other until the night before our flight become friends, it was truly amazing.
I would like to thank my dad and all the other WWII veterans for their service. To see them get the welcome back they deserved was quite emotional.
WGVU is doing a documentary on the Honor Flight and interviewed Dad and I. They were looking for some human interest and Talons Out gave them our name since we were Fatherson and WWII-Vietnam veterans. They traveled with us and shot video throughout the day. The documentary should air around Veterans Day.
If you know of a WWII veteran that would like to go or would like more information on Honor Flights, you can contact Talons Out at talonsouthonorflight.org or google Honor Flights. There are organizations all over the country that send WWII veterans to D.C. It was a wonderful experience that I was proud to share with dad.
~Kurt Hopkins, Hope Church Member
Clarence Hopkins died on October 19 at the age of 95, one day shy of his 96th birthday. He was surrounded by his loving family at the time of his death. Clarence "Hoppy" Hopkins was a life-long member of Hope Church, and we give thanks to God for his faithful life. A memorial service was held on October 31 at Hope Church.