Think Hope: May 16 Auction Supports Camp Sunshine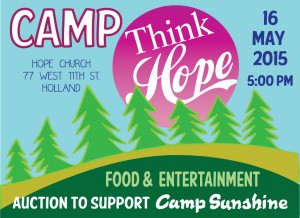 Are you open to a purpose-filled evening of entertainment?
Mark your calendar for Think Hope, our annual fellowship and fundraising event: 5 p.m., Saturday, May 16th.
The evening will begin with hors d'oeuvres and a chance to bid on the gifts and talents of the Hope Church community, to the benefit of Camp Sunshine—a summer camp experience for people with developmental disabilities led by our own Cindy Terlouw. We'll then gather for dessert and our own fun-filled camp program, led by Deb Shakel.
Tickets are available in the Gathering Area and church office for $12 per person.
Auction donations are also welcome. Think about your possibilities, which could include handcrafted or home-baked items, certificates for food or services (babysitting, landscaping, or whatever your talents are), artwork, holiday opportunities, etc. Anything goes!
To donate, pick up a form from the Gathering Area or church office, and deliver your item (or your form, if the item is perishable) between May 3 and May 10.
Puhhleease . . . do join us for this celebration of talents, fellowship, fun, and purpose!