Vietnam Update: Children with HIV/AIDS
In April, I made my annual visit to Vietnam working on a project I have been involved with since 2007, in support of children with HIV/AIDS.
Here is an example of one of the many families I visited while working with the Warm Hold Association Team.
Kim Loan Nguyen has two children. Phuong (8 years old) and Phung (7 years old). All three have HIV.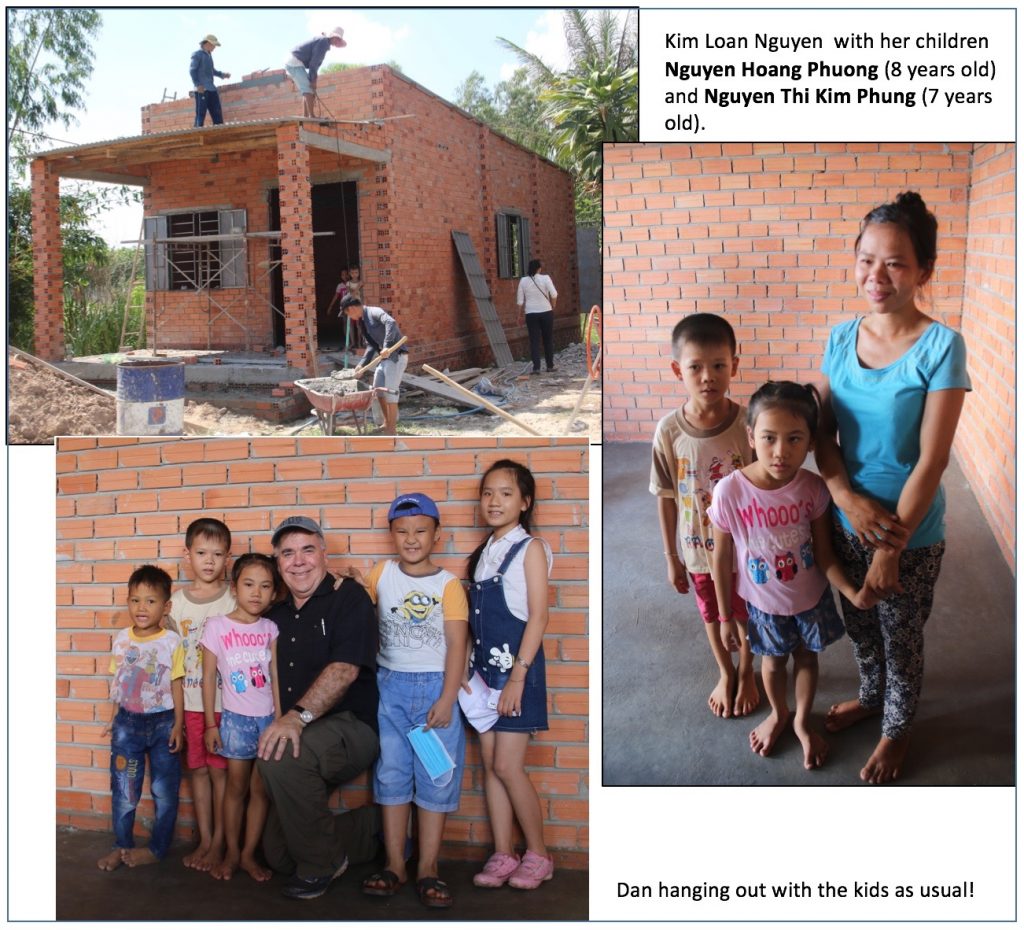 After her husband died 4 years ago because of HIV/AIDS, his family rejected them and pushed them out of his parent's house to live without support. They then moved into her parent's house with the support of her younger brother as her health situation is very poor.
With six of them living in her parent's house, the brother was recently married, and his new wife is afraid of HIV infection. She discriminates against Loan and her children causing difficulty within the extended family.
Loan's dream is to have a small house for herself and her children, located next to her parent's house. She hopes that when she dies, her parents and her brother would be able to provide for her children.
Our team, the Warm Hold Association, has worked to provide a new house for the three of them next to her parent's house (See photos). In addition, we have worked with the Local Women's Union and AIDS Center to provide counseling for the sister-in-law so she can gain a better understanding of HIV. Hopefully, she will be in a better position to help provide the much needed care and assistance that the two children will need when their mother dies.
Our goal is to keep these wonderful children in a loving and caring family situation, so they can grow up with the support needed to successfully overcome the many challenges related to their HIV infection.
Learn more about this and other projects we are working on at: www.danfishervn.wordpress.com
Hope Church and its members have provided generous support for the work of the Warm Hold Association, including support for this family. For that I am forever grateful. The results of your kindness and care are reflected in the 115 children in three provinces we now work with.
BECOME A SPONSOR
I'd like to invite you to sponsor my daughter Elyse and me, as we run the Holland Park-2-Park 1/2 Marathon on September 23 in support of this work for Children with HIV/AIDS.
You can support us with a check payable to "Hope Church". Please note on the check memo line "Vietnam Children HIV Fund" and also a short note in the envelope saying you are contributing to this fund.
Thank you for your ongoing encouragement, caring and support.
Peace to all,
Dan Fisher