Washington School Neighbors: My New Role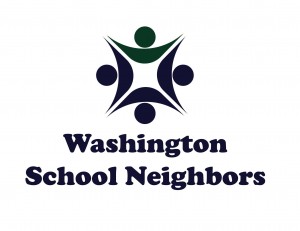 Introducing Neighborhood Connector Lisa Kasten
I have lived in the Holland Historic District since April of 1996. I have watched families and individuals grow here and formed friendships that have continued through our children. There was always a deeper desire to see people connect outside of our small little worlds and share in community life. This summer I was asked if I wanted to tend a plot at the community gardens. I was excited that a program like this was happening so close to my home, so I jumped at the chance to be a part of this. The gardens are run by the nonprofit organization,Washington School Neighbors(WSN). Their main area of outreach is an area defined by River Ave to Kollen Park Drive and from 8th Street to 13th Street. I have lived within this organization's outreach area and did not even realize the work they have been doing in collaboration with area businesses and churches, and of course the residents.
The garden provided an opportunity for me to teach my children about where our food comes from, how it grows and even more beneficial, that there is a world outside our front door where neighbors desire to live in community life with one another. I started meeting new neighbors, sharing our stories and also our desires for the neighborhood. We cared for each other's garden plots and shared in the harvest when it was time.
A dear friend started working with Washington School Neighbors in April and had encouraged me to become more involved. I lived in the target area and had created relationships with it's residents over the last 21 plus years. She felt I could offer a perspective that would benefit other residents.
I started working for WSN in October and it has been wonderful. I have had an opportunity to take what I have learned about my neighborhood over the last two decades and participate in furthering the vision of living life in community. The churches, businesses and residents that make up this area care deeply about the quality of life for all who live here. This is not a club, or join by membership organization. I am so excited to see what the future of Washington School Neighbors holds. We have already seen over 200 neighbors attend events just through this summer alone. And 24 households were able to take part in the two community gardens.
We have a long way to go, until we can reach all the neighbors, businesses and churches that desire to partner with us to build this vision of community life. There are gifts within all of us that just need a chance to be encouraged, people who need a venue to be heard and if we can provide opportunities for growth, then we have a chance to strengthen the neighborhoods that anchor our great City of Holland.
I am so very thankful to play a role in this process of connecting lives to strengthen neighborhoods. Lisa will be working along with Neighborhood Connector Christen Bordenkircher.
~Lisa Kasten, Neighborhood Connector
Upcoming Events:
Holiday Card Photo Session Fundraiser on Saturday, December 2, 1-4pm at WSN Community Gardens: Capture your family photo this holiday season while supporting and sustaining the important work of Washington School Neighbors! Sign up for a 5 minute portrait session time by emailing christen@washingtonschoolneighbors.com for a list of available session times. One image for $25 donation, two images for $50 or three images for $75 donation to the vital community work of Washington School Neighbors. Thank you!